Are you a blogger?
Chances are if you are reading this article you probably are.
Do you sometimes do or want to be able to perform blogging tasks, such as writing posts, saving/editing photos, keeping up on social media or more?
If you answered YES to this, too read on now.
See for those times when you are or wanting to blog on the go, there are just certain apps that are a must have if you if you own a mobile device, such as Apple iPad/iPhone or Android based device, such as a Google Nexus, Kindle or Samsung tablet or phone.
I have hand picked the apps that I have on both my Apple iPad/IPhone, as well as my Google Nexus, too.
Trust me, between blogging and designing daily I use all of these apps if not daily often enough each week here.
So, I thought for those starting a blog or even if you have been blogging for awhile and not sure which apps are the must have apps to use, that I would share here today.
1. Facebook/Messenger/Pages –
No blogger apps list can be remiss of leaving off Facebook and if you are a blogger, then you indeed share, share, share and all your work.  The first place for this is usually Facebook.  As much as, Zuckerberg loves to screw around with the sharing algorithm on any given day, I still don't know any blogger that isn't trying to get a piece of the pie using Facebook to share their posts or just get their name out there socially, including the good old fashioned feed, groups and interest lists (great article here about this by Michelle of A Dish of Daily Life), too.  That said there is the trifecta of Facebook apps and if you are a blogger, then you want all three of these, which include the good, old fashioned Facebook app, which is pretty much the social media king or queen (whichever sex you would like to choose here it is still tops), Facebook Messenger (which allows you to keep in touch with any and all your contact via private message) and also Facebook Pages (essential for the Blogger, because this where you can update your actual blog social media page that you have linked to your Facebook account).
2. Twitter –
If Facebook for apps is King/Queen, then Twitter is not far behind, as far as apps go, if not equal to Facebook as far as social media apps goes.  I know Twitter tends to have a faster more lighting type speed, as far as, social sharing is concerned, but still it is prime real estate for bloggers and sharing capabilities.  As long as your blog is verified and linked up, you can totally use the app to share and tweet away as much as possible all day and night long.  The sky is the limit here!
3. Pinterest –
Here is where addiction to images and all things that look aesthetically pleasing begins.  If you have a blog, most know that you need pretty and pleasing images to go along with all posts, even adding Pin It Buttons like suggested here to further the Pinterest sharing.  That said as a blogger, Pinterest is another wonderful outlet to share all your blog posts, as well as network, too and share for others.  Bonus, if you have your blog verified, you can not only share, but even check you business stats right from this app.  Trust me, in the blogging world – any and all stats are not only important to us, but addicting at times, too!  For this end, you will need to have Pinterest in your apps list on all your mobile devices.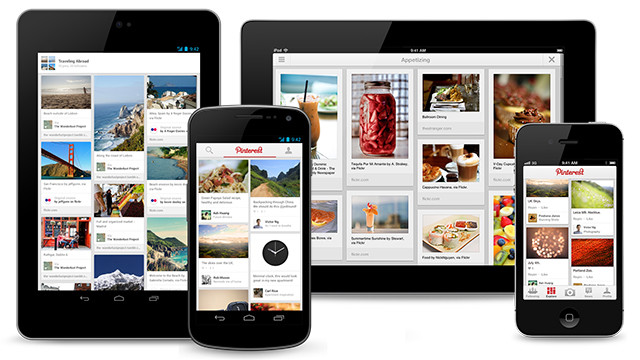 4. Google+ –
Google+ (G+), I feel takes over where Facebook and/or Twitter leaves off and definitely a great resource to share and connect for your blog and with other bloggers, as well as groups, too.  I know many feel G+ isn't as beneficial as Facebook, but I don't agree and think G+ is just as important to use correctly and wisely, as is Facebook and/Twitter, too.  And with this app, you can easily do all G+ social shares easily and quickly, too.  Another apps must!
5. Instagram –
Not going to lie, when I say I may very well have an Instagram addiction and even though it is #5 on this list, I would say it is one of my favorite social medias out there even admitted it here.  That said, the best way to actually use this social media is in the apps form on a mobile device.  Seriously, you can view the feed and such on a computer, but you cannot truly add your new photo shares on a computer only on a mobile device.  Thus, this app is not only a blogger must, but seriously the only way to go if using this social media giant.  And by the way, images (editing and looking your best) is just as important here as it is in Pinterest, too.
6. BlogLovin –
This by far is my favorite Blog Feed reader.  I know there are others, such as Feedly out there, but since Google Reader is no longer, this is my go to and believe many, if not most other bloggers out there, too.  So, if you are a blogger, I have recommended here before to sign up with them and also make sure that you get the word out there that you did indeed do this.  For tons of tips on using this feed reader, you can click here, too.  But for apps purposes, this is truly a must and you can always, always read all your blog favorites on the go that you have followed so very easily it would be silly not to use this one.
7. A Beautiful Mess –
I have stressed above about photo editing and got to tell you that on my mobile devices the prepackaged free photo editing only goes so far and if I want to edit photos quickly and on the go, I always use a Beautiful Mess app (which is now also available on Android based devices).  I talked all about why here, but seriously for the price (even though it isn't free) it truly does so much and is worth it in my book!
8. Dropbox –
Once you have saved and edited all your photos, you will want to access them all over, including your mobile devices.  The easiest way to do this is to use Dropbox, which conveniently has an app to use on your mobile devices.  You can take a better look at Dropbox for all they offer for free and premium plans, but got to tell you I have a premium plan and not sorry I do, because all my images and files, too are stored conveniently and carefully, too in Dropbox, where I can readily get my hands on them from whatever device I am using for all my blogging needs by using the app form of it, too.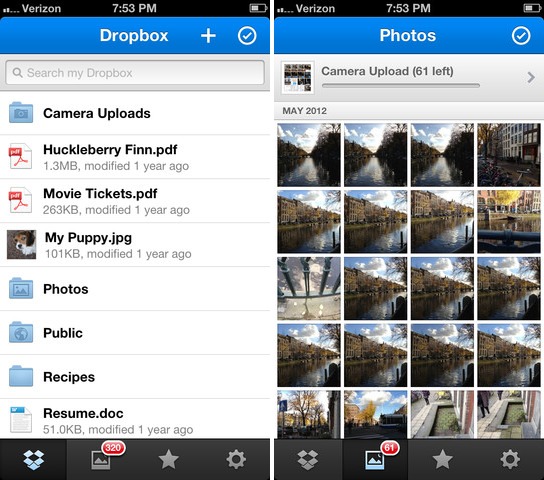 9. InstaPicSize (Apple Store) or Square InstaPic (Android/Google Play Store) –
This one was recently brought to my attention by another blogger, Rea at REAlity Bites and seriously not sure how I lived without it this app before, because for Instagram, pictures need to be square and let's face it not every image is a perfect square this app edits and keep the photo still somehow nicely in proportion to share on Instagram.  Before using this, I had to crop and edit on my computer, then come back to my mobile device using Instagram.  Not going to lie or sugarcoat it, what a pain in ass (sorry for the language, but just so true), this was.  Now, I just use this app (yes I found an Apple one that is very similar to the Android, which Rea introduced to me, because as I said earlier I use both operating systems with my different devices) and voila, perfectly square photos always, thank you to both of these apps!
10. Goodreads –
This last one, I include, because most of my fellow bloggers seem to be avid readers, such as myself and the Goodreads app really is truly so helpful for reading on the go, as well as keeping up with what others you follow are reading and giving a glimpse to others, as well, what you are reading, too.  You could totally include the Amazon, Nook and even iBooks apps here too for reading, but let's be honest, these don't really help with blogging per say mostly just reading.  However Goodreads, I feel is an extension to social media and so many blogger use it that I felt I should include it here in this list for blogger apps.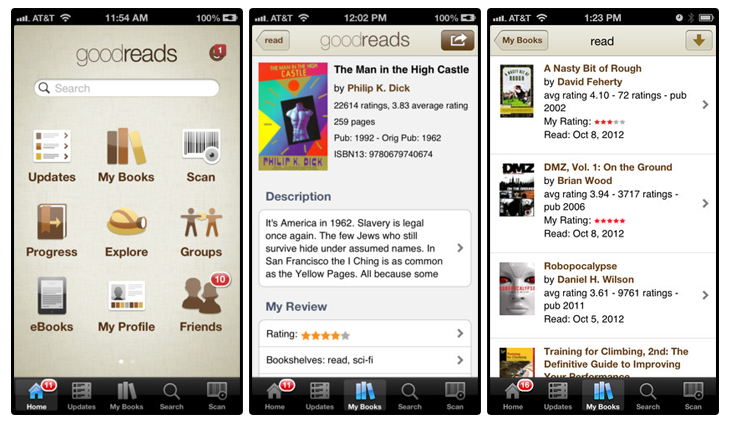 The last two are no brainers and am including them at the bottom here as most are either on WordPress or Blogger for their blogs, so you would most certainly want to have one of these as long as you are indeed on these preferred platforms to write/edit and comments on all blog posts.:
11. WordPress –
What can be said about WordPress by me that hasn't already.  I think most know how much I truly love this platform.  And if you are on WordPress, you are going to want to use this app on your mobile device as it will allow you to do anything and everything wordpress based all in one spot, whether your blog is self hosted or not, because the app also allows for WordPress.com blogs to be maintained here, too.  Also, keep in mind even if you don't necessarily blog on WordPress, if you do read and comment on other WordPress based blogs and signed up for updates through WordPress for these blogs, then you will also want this up to keep up with the latest up-to-date posts from all your favorite WordPress authors.  Therefore, you must download this app and include it in a blogger's must have apps list.
12. Blogger –
Yes, as much as I love WordPress, I still have such a fond place in my heart for Blogger, as this is where I started out and learned the blogging ropes so to speak.  So, once again if you are a Blogger blogger, this is the app for you to get to quickly and easily edit and publish all your posts on the go!  So, can't not include the Blogger app for a the must have blogger apps list, as well.
And there you have my top 10 go to blogger apps that will indeed help all bloggers with all their blogging needs.
Happy Mobile Apps Blogging!!